Search Engine Optimisation.
Search Engine Optimisation
Unfortunately simply submitting your web site to search engines will not drive traffic to your site.
Although submission is an integral part of any effective search engine optimising strategy, you must achieve good search positions for anyone to find your listing.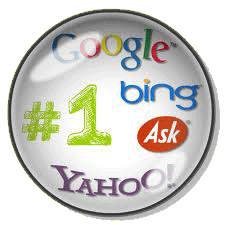 As any search engine optimisation company will tell you, getting you site listed in the first ten results for a specific keyword is as much art as a science. Anyone can get to number 1 on a unique word or trade name, but on a generic key phrase, it's much more tricky.
Search engine optimising can be difficult and confusing, but once you are aware of the key optimisation techniques, time and persistence can yield a hugely gratifying reward if you get it right.
Design Considerations
From the onset it is necessary to consider the following in site design and construction
Do not use extended path structures such as http://www.website.com/products.asp?ID=dynamic+example
Flash based home pages are not read
Avoid using frames as these are not indexed
Javascript (programmed) Navigation cannot be followed by the Search Engines
Image Maps as links cannot be indexed
Keywords are crucial and must be carefully chosen
Title tags on each page are extremely important as these receive a higher level of importance
All images must have an "Alt" tag describing them